Still Awake and In Front of the Computer? Here's Some Very Entertaining Stuff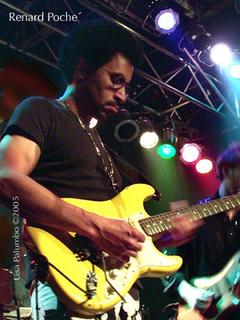 LIVE WEBCAST
-Midnight till ?? My 3-years-on /6-months on-again-off-again boyfriend (on again, at least for now, it seems), Renard Poche is playing at Tipitina's tonight with Ivan Neville on the B3, George Porter on bass (of the original Meters, who are truly the founding fathers of funk), drummer Johnny Vidacovich and violinist Theresa Anderson. They are billed as "The Trio" despite being a quintet tonight. I expect this combo to be quite funky, and you'll get to see Renard do his thing on guitar, trombone, and percussion -all in one great show.
I'll be watching the webcast on my laptop from the comfort of my bed, without the bother of secondhand smoke and sweaty spectators bumping into me. I'd be at Tip's, but I've got Little Rachel snuggled next to me, just like in this "artified" cell phone picture, except my eyes are open, the Powerbook is on my lap, and I'm trying to type with my arm around her like this. (Not easy!) I'm here and not there because I promised her I'd be with her at the exact moment 9 years ago when the first contraction came, which will be at approximately 3:00AM.
Rachel wants me to wake her up at the corresponding moment of her birth, which was at 4:50AM, after a whopping 1 hour & 50 minutes of labor. I'm a fast birth-giver (Alex was 4 hours from start to finish), but I had all the pain that's stretched out over 12-16 hours with nice, long, restful gaps for most women, condensed into what was akin to one massive, 1:50 long, excruciatingly painful contraction with occasional 5 to 10 second breaks. They couldn't get the epidural to work because the perpetual contraction constricted everything so much that the anesthesia couldn't get where it had to go. It kicked in after my hefty 9 lb, 9 oz Rachel was born. Hard to believe she was so big, given how skinny she is now. (But she is quite tall for her age.)
I won't be waking her up at 4:50 AM. After all that hard labor, I'll need some sleep! By the way, she and I sleep snuggled like this every night and will continue to do this as long as she wants. (It's much better than hugging a pillow!) She's my last baby and I intend to hold on to every shred of her babyhood I can. This closeness is the sweetest thing there is!